Tracy's Dog Mr Duckie Suction Vibrator
Tracy's Dog Mr Duckie Suction Vibrator allows you to enjoy toe curling oral sex whenever and wherever you want it. The powerful sucking vibrator mimics the sensation of oral sex and has 7 vibration modes for you to explore at your pleasure.
Playfully disguised as a rubber duck toy, Mr Duckie is fully waterproof and can be used in the shower or bathtub. 
UBS Chargeable
Body safe silicone
Waterproof
Light and portable
Dimensions: 
Height: 3.35"
Width: 1.78"
Frequently Asked Questions
Please check to see if your question is answered here before contacting us with your query.
Is the packaging discreet?
Yes, we totally understand the importance of discretion, therefore all of our packaging is 100% discreet
Where are you based? 
We are based in the UK and ship product all over the world.
What will show on my bank statement?
'YPT LTD' will show on your statement
How long does delivery take?
Please take a look at our shipping policy
 Are the reviews on this site real?
We pride ourselves on honesty and transparency therefore yes, all of the reviews that you see on the site are 100% genuine. 
If this page doesn't answer your query, please email hello@yourpleasuretoys.com. 
If you query is urgent, please call, text or WhatsApp us on +44 7549 943 124
Customer Reviews
Write a Review
Ask a Question
08/30/2020
Anonymous
United Kingdom
Fantastic Product!!
My best toy so far. This genius is such a great kisser :)
07/27/2020
Anonymous
United Kingdom
07/24/2020
Nina
United Kingdom
This is my new best friend!
Mr Duckie might look small and cute, but he sure packs a punch! The suction on this toy blows my mind! It's more intense than the suction on the standard Tracy's Dog toy. Honestly, it made me *** in less than 30 seconds, no exaggeration. I would suggest that of you are not used to using suction toys that you don't start from nothing with Mr Duckie as you might find it too much from the off. I've used the pebble toy first the last two times to "prepare" for the Mr Duckie experience. All ******* are good, brilliant in fact. But a clitoral ****** using Mr Duckie is like a whole new experience and blows "standard" ******* out of the water. The build up is so much more intense and the ****** feels really deep. Well it does for me anyway. Love it! Mr Duckie has got a permanent home in my bedside drawer now. He's earned it!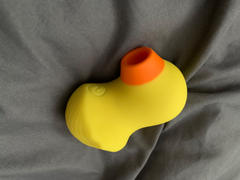 07/06/2020
Anonymous
United Kingdom
Brilliant
Brilliant, just brilliant. Very pleased. Not entirely sure if it's the suction - doesn't feel like it's ******* very strongly when i put it over my finger - or if it's the all-encompassing buzzy mouth ring thing, but I don't really care cos it's bloody great! Also, was posted very promptly and discreetly so really I'm all smiles! Thanks very much