Tracy's Dog OG Air 2 - Suction Vibrator with Remote
Tracy's Dog OG Air 2 - Clitoral Suction Vibrator with Remote
Bask in blended bliss with this clitoral suction vibrator, now with a remote-control! A gorgeous-looking pleasure product brimming with orgasmic potential. Start off slow and feel your level of excitement soar.
This toy can be devoured during hands-free solo fun or partnered play. Either way, you'll be rewarded with a beautifully-orchestrated G-spot and clitoral orgasm that will rock your world. 

FREE UK Shipping on ALL UK Orders!
Waterproof (upto 30 mins)
Luxury Gift Box
USB rechargeable
100% Body Safe Silicone
Frequently Asked Questions
Please check to see if your question is answered here before contacting us with your query.
How much is delivery and how does it take?
Please take a look at our shipping policy
Is the packaging discreet?
Yes, we totally understand the importance of discretion, therefore all of our packaging is 100% discreet
Where are you based? 
We are based in the UK and ship product all over the world.
What will show on my bank statement?
'YPT LTD' will show on your statement
Are the reviews on this site real?
We pride ourselves on honesty and transparency therefore yes, all of the reviews that you see on the site are 100% genuine. 
Is there a warranty?
Yes! we provide a minimum 12m warranty on all products. In order to make a claim under the warranty, we will need the lot number from the original packaging so please be sure to keep hold of the box / packaging.
If this page doesn't answer your query, please email help@yourpleasuretoys.com. 
If you query is urgent, please call, text or WhatsApp us on +44 7549 943 124
Customer Reviews
Write a Review
Ask a Question
10/18/2021
Anonymous

United Kingdom
I recommend this product
Holy MotherForking ShirtBalls
I think the title says it all but just in case. Buy it. Right now. You will NEVER regret buying this! The moment it arrived I was like a kid at Christmas. I quickly unwrapped it and plugged it in for a charge. 2 hours later I was off…wowsers! I came so fricking hard. The second time (literally the next day) I came even harder (I didn't think this was possible after yesterday). I laughed and cried at the same time, I couldn't walk for 5 minutes. I was just sat in a puddle of my own making laughing and crying until I could get up for water. Next time I'm taking supplies
08/20/2021
Anonymous

United Kingdom
I recommend this product
Nice addition to my collection
I was intrigued by the ******* function, but for me it doesn't work very well and it makes my **** feel more sensitive than anything. Paired with the vibrating end though you're in for a mega ending - especially if you squeeze your legs closed while it's in position. It's handy that the sucker and the insertable part are connected, although it's a bit awkward to begin with if you're not ready for insertion. It's great if you want to explore different sensations, but if you're interested in just the ******* part then just buy the ******* part.
08/09/2021
Anonymous

United Kingdom
I recommend this product
One happy wife
After reading the reviews on this item I decided to purchase one for the mrs. She said it's without doubt one of best toys she's had! Hasn't finished as hard or as fast with any previous toy top marks she said!
07/29/2021
Gary H.

United Kingdom
I recommend this product
Tracy's Dog OG Air 2 - Suction Vibrator with Remote
I purchased this for my wife as a surprise,the look on her face after the first time using it was a nice surprise for me.It looks nice and seems of good quality,a bonus is that it can stay in place hands free.
07/08/2021
Anonymous

United Kingdom
I recommend this product
Big disappointment…
I guess, you get you pay for… the material is nice and pleasant but the performance is poor. Nothing earth shattering, on the contrary, I had to use my We-vibe to finish the job. The suction part doesn't really fit the bill, the whole toy is unpleasantly noisy, Iike a drill, the vibration is not of the nice and runmbly variety but more like an electric toothbrush (and I do not have teeth to clean down under!) and do not increase power, just speed. Lesson learned….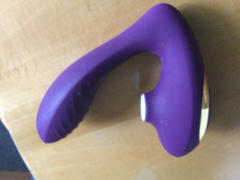 06/25/2021
Anonymous

United Kingdom
I recommend this product
Absolutely great
Highly recommended!
06/06/2021
Anonymous

Italy
I recommend this product
No pack
I'd love to get my ****** piece after one month of waitin!!! So i really cant leave a feedback
05/18/2021
Anonymous

United Kingdom
I recommend this product
Absolutely amazing
This is a replacement one as I used first one so much it broke! Never disappoints. Recommed this to women everywhere I go as a must have as a matter of public health and as a service to humanity ;-)